Ultime tendenze nelle arti visive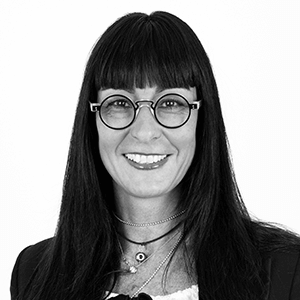 Caterina Tomeo: storica dell'arte e attiva nella ricerca pratica critica e curatoriale. Si occupa di interdisciplinarietà e ricerca nell'Arte Contemporanea all'interno della New Media Art e delle Sonic Arts. Coordinatrice del MAD (Multimedia Arts and Design) presso RUFA – Rome University of Fine Arts, dove è anche docente.
Lecturer nel Master di "Sonic Arts" presso la Facoltà di Ingegneria elettronica dell'Università degli studi "Tor Vergata" di Roma; nel Master di "Management dell'Arte e dei Beni Culturali" di Giunti Academy – School of Management di Firenze; nel Master di "Economia e Management dell'Arte e della Cultura" della Business School Sole 24 Ore di Roma.
Collabora con festival internazionali dedicati alla musica elettronica e alla cultura contemporanea; attualmente cauratrice della sezione multimedia e talk di Videocittà festival di Roma. Co-fondatrice del Sound Studies Forum, prima rete di ricerca sui sound studies in Italia, in collaborazione con l'Università di Urbino.
Tra le varie pubblicazioni, e i saggi più recenti ricordiamo:
Sound Art. Ascoltare è come vedere (Castelvecchi, 2017)
Sonic Arts. Tra esperienza percettiva e ascolto attivo (Castelvecchi, 2019)
Dance Dance Dance. L'Interzone tra il sound dei Joy Division e la Rave Era, in Our vision touched the sky, a cura di A. Amendola e L. Barone (Rogas Edizioni, 2021)
L'elettronica è donna. Media, copri, pratiche transfemministe e queer, a cura di C. Attimonelli e C. Tomeo (Castelvecchi, 2022).