Illustrazione e Brand Identity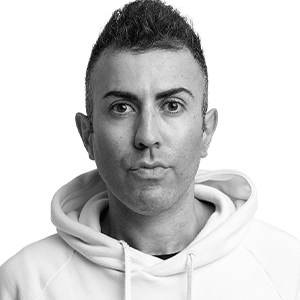 Enrico Tanno, classe 1982, nasce come Illustratore e Graphic Designer  autodidatta e freelance, specializzandosi nel 2007 allo IED in una laurea triennale in visual design.
Nel 2008  dopo diverse collaborazioni a Roma si trasferisce a Londra dove lavora come Art Director Junior presso Ptah UK su progetti come il Ferrari Park di Abu Dhabi.
Durante l'esperienza  Londinese collabora con varie realtà e con marchi celebri, tra cui Adidas, Converse,  Nike e ottiene riconoscimenti e pubblicazioni di livello internazionale.
Tra le varie pubblicazioni ottenute, il driver per la nascita dell'agenzia DigitalBathroom è stata la selezione all'interno del celebre Annual inglese della rivista Creative Review, con un video di motion poetry ispirato ad una poesia di Charles Bukwoski, "The Genius of the Crowd", realizzato con la tecnica del rotoscope.
A seguito di questa pubblicazione fonda nel 2010 insieme ai suoi ex compagni di corso e ora colleghi l'agenzia di comunicazione DigitalBathroom, specializzata in prodotti digitali e campagne di display advertising,  illustrazione, graphic design, copy, user experience e user interface, web design e development, SEO.
È Co – Fondatore inoltre della rivista digitale Laundry Magazine, progetto editoriale dedicato al mondo della comunicazione visiva e del design, visionabile su laundrymag.com